On hospitalization
From hospitalization to discharge

Your room at the hospital
We have four room types: shared room, private room, obstetrics/gynecology special room, and special room. Your room at this hospital will be decided on the day prior to hospitalization. Please note we sometimes may not be able to accommodate your room requests.
Fees schedule for premium rooms (per day, inclusive of tax)
There will be premium fees for special and private rooms.
| | |
| --- | --- |
| Special room | JPY 38,500 |
| Obstetrics/gynecology special room | JPY 22,000 |
| Private room | JPY 16,500 |
| Pediatrics private room | JPY 11,000 |
*Full day fee will be charged for hospitalization date and discharge date. There is no prorating on fees.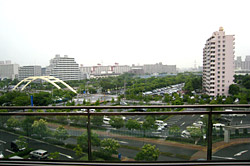 Views from the obstetrics/gynecology room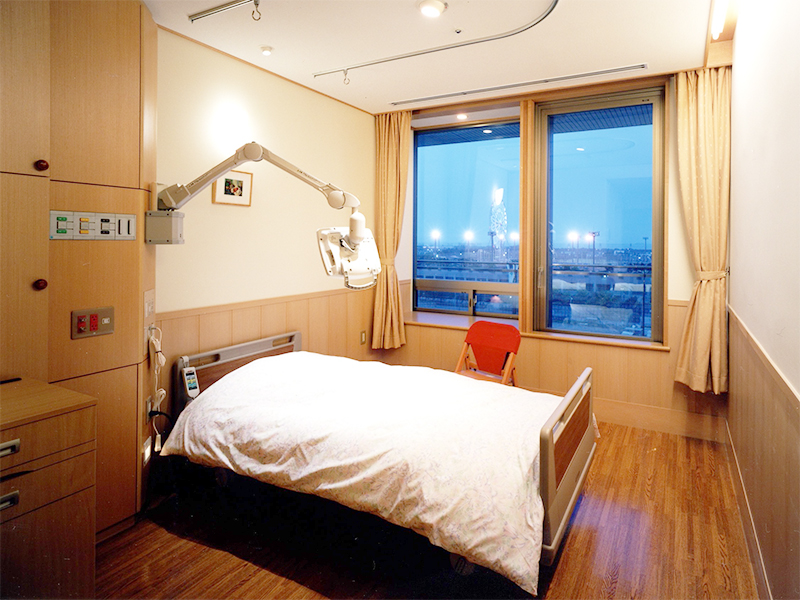 Private room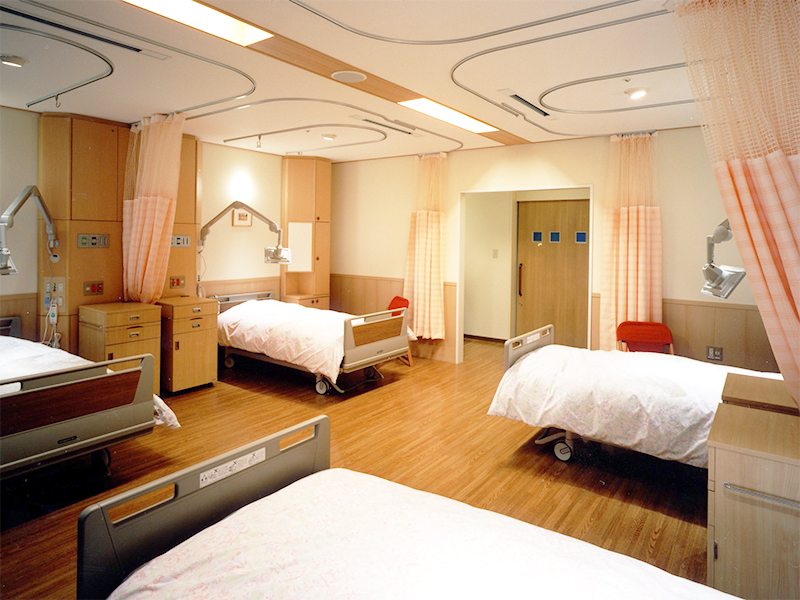 Four persons room
Hospitalization procedure
We take hospitalization requests between 9AM and 11AM at the 1F Medical Affairs Section, hospitalization and discharge desk. If you will require hospitalization for an traffic accident or workplace accident, please let us know at the time of this procedure.
If you wish to give birth at our hospital
What is required for the procedure
Hospitalization form
Special care environment room (premium bed) request form
Insurance coverage limit form

(限度額適用認定)
Discharge certification
ID card (hospital ID card

(診察券)

)
Insurance card / medical assistance card (if provided with one)
Japanese seal/stamp

(印鑑)
Hospitalization security deposit
Document submissions
If you require a letter of diagnosis or certifications, please ask at the hospitalization and discharge & documents window on the 1F general information area.
Hospitalization security deposit
We take the following security deposit at the time of this hospitalization procedure. Security deposit is settled at the time of your discharge, so please do not lose your security deposit slip and bring this at the time of your discharge procedure.
| | |
| --- | --- |
| Private room (including special room) / your costs | JPY 100,000 |
Security deposit for birthing does vary by selection of birthing method. Please ask at the hospitalization and discharge desk
Payment at time of hospitalization
We issue a bill at end of each month for hospitalization costs. This bill will be delivered to you after the 10th of the following month. When you receive your bill, please bring your bill to the 1F hospitalization and discharge desk or automated accounting machine which can receive your payment.
You can pay in cash or by credit or debit card.
We accept DPC (diagnostic combination procedure) payments.

Hospital services can be paid by credit card.

Accepted forms of payment:

Costs relating to various certificates such as letter of diagnosis and inpatient and outpatient medical care cost

Accepted credit cards:

MUFG, DC, UFJ, NICOS, VISA, Mastercard, JCB, American Express

Inquiries:
Medical Affairs Section

TEL: +81-3 (5605) 8811 (pilot)
What to bring with you for hospitalization
Toiletries (toothbrush, toothpaste, soap, shampoo, conditioner, etc.)
Underwear
Sleepwear (pajamas, etc.)
Indoor slippers (slip resistant ones)
Towels, bath towels
TV earphones
Tea mugs
Tissue paper
Cardigan, sweaters
Helpful information for hospitalization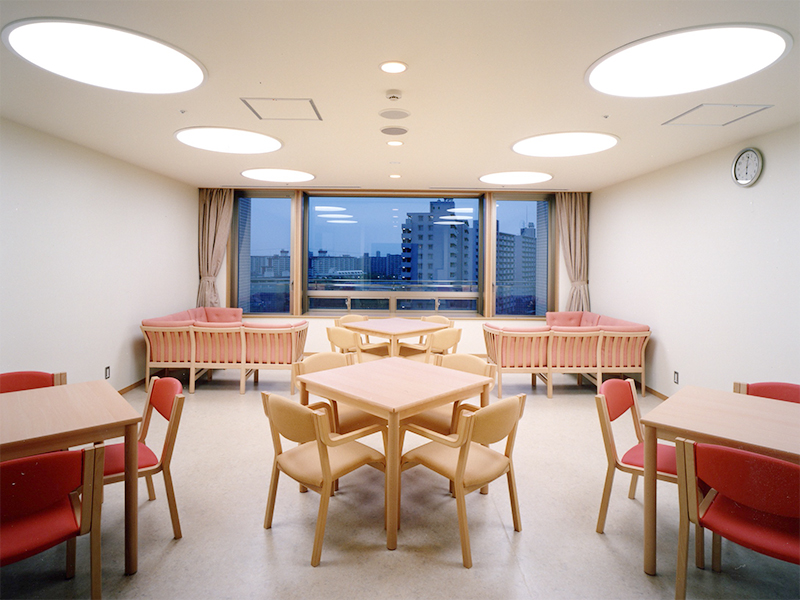 * If you require paper diapers, please bring them with you. We sell paper diapers packages that suit the state of the patient.
* We sell sundries and loan pajamas, sleepwear, towels, and so on, for a fee. You also can purchase them at the 1F convenience store and 1F vending machines.
What you will need to give to your floor nurse.
Wrist band
Medicine you currently take and medicine notebook

(お薬手帳)

Surgery and examination consent form (only patients who received this previously as an outpatient)
Letter of referral and nurse summary from another hospital (only patients who have these)
Physician's examination and nursing care
Normally, there are two physicians on call and two nurse shifts. When you are staying with us, please refer any questions to the physicians or nurses on your floor.
Family help for the patient
Family help for the patient is not permitted as a rule. However, depending on the particulars of the patient's illness, when family requests to help the patient there is a procedure, so please ask your floor nurse.
Meals
We provide meals that suit the patient's state of illness per the instruction of the attending physician. Physician, nurse, and nutritionist work together to plan the nutritional requirements for the patient, and oversee the patient's nutrition during his/her/their stay.
Breakfast: 8AM -
Lunch 12PM -
Dinner 6PM -
About laundry
Please take your laundry home as a rule.
There is a coin operated laundry room on the 8F. Hours are 8AM - 8PM, weekdays. We also provide washing concierge for a fee (only cold water wash).
Concerns during hospitalization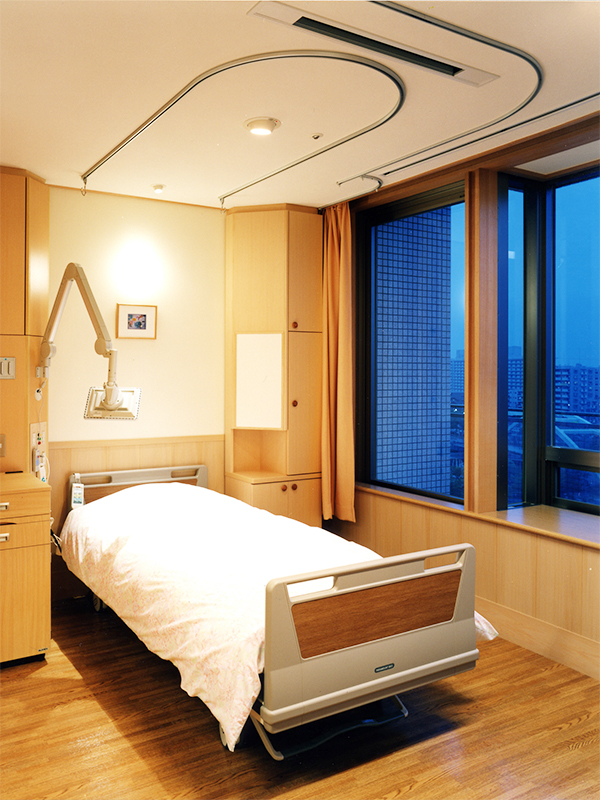 There is a hospital social worker who can answer your questions about your stay and lifestyle changes due to your illness. If you wish to talk to this professional, please ask your nurse or come to the 1F hospital social welfare window.